Bleu: The Caribbeans Biggest Pool Party (and this months JA soca fix)

It's the middle of the dry season when it comes to soca in Jamaica.  Socaphiles here are simply keeping their cool and slowly getting ready for the onset of the band launch season in Trinidad.  Fortunately for those who need a fix, soca is returning to Jamaica at the end of May.  I have made contact with one of the organizers of "Bleu", the Caribbean's largest pool party.  He also happens to be one of the organizers of Sunrise, Jamaica's first breakfast fete.  I'm already sold and will be making the long drive across my island to attend.
Here is what he had to tell me.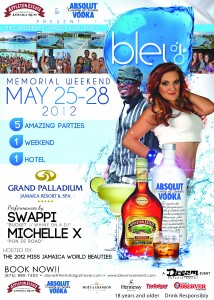 1. how long has BLEU been going on? and what is the basic concept? 
This is the second staging, the first was held on Heroes weekend last year 2011.
Jamaica has some of the most beautiful and exotic all inclusive hotel properties in the world – and we party non stop….Bleu is a fusion of both facts – Delivering a high energy party experience at exotic locations where all your needs are pampered. No need to drive home after partying hard – your room is just footsteps away!
2. Where was BLEU last year and what were last years highlights?
It was held at Grand Palladium(near Montego Bay), and will be held there again this year.  Last years highlight was an electrifying performance from Kes @ Bleu ( The Caribbeans biggest pool party )
3. Who is your target audience?
Adult professionals who appreciate extra ordinary party experiences.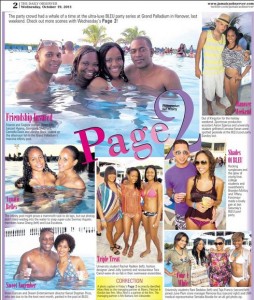 4. What are the parties planned?
May 25th – Friday(Nite) Baby Bleu – Sleep wear Party
May 26th – Sat (Day) Sky Bleu – 90s Beach Party
-Sat (Nite) Electric Bleu – Raving house party
 May 27th – Sun (Day) BLEU – The caribbeans biggest pool party
                   -Sun (Nite) Army Bleu – Survivor Party
5. Who are the headline acts?
Swappi 4D ( Bucket//Bubble pon a DJ)
Michelle X ( Pon d road // Fetting for days)
6. How do patrons get more info and tickets?
For info Check the Bleu Facebook page or www.bleumovement.com
Will You make it to   BLEU?