Bleu 2013 at Grand Palladium, Memorial weekend. Here is what you need to know
See end of post for update!
Bleu is almost upon us again. The next edition will be once again held at the Grand Palladium on the western part of the north coast in Hanover.
For those who don't know this party is held in one of the islands newest super all inclusive resorts. You pay for your stay and enjoy all the amenities the hotel has to offer and the Bleu parties are INCLUDED.
That means champagne…included. Meals at 5 star Restaurants…included. Trips to the day spa…included. Bleu parties plus guest performance…….INCLUDED!!!
[amazon asin=1400004462,B003VWQ0OY,B008BSIHOY,B008PQIGQ6,B001KVT2K2&text=www.amazon.com&template=carousel&chan=default]
The Bleu parties are an intoxicating mix of house music, dancehall and soca and is bound to please!
Prices are listed here. Call the number now to make your reservation and party like a rock star come memorial day in May!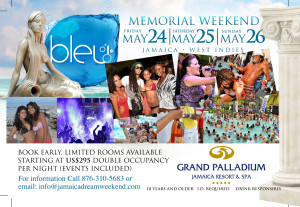 update!!!
This year, Bleu will take a step in a new direction with its core concept. There will be no headline soca live performance. Instead, this year they will take you on a virtual tour around the world with some of the best DJ's from near and far!
The weekend will be hosted by Shamar Moore, which I assume the ladies won't mind.
Each party will feature DJ'S from different countries including:
DJ Lava from Dei Musicale (Trinidad)
DJ Jus Jay from Barbados
DJ Renegade from Cayman
DJ Royale also from Cayman
DJ Smoke and DJ Kamal Bankay from Jamaica.
Fri. May 24th- Sleep Wear Party – Baby Bleu
Sat. May 25th- Beach Party – Sky Bleu
Sat. May 25th- House Music Party – Electric Bleu
Sun. May 26th- The Caribbean's Largest Pool Party – Bleu
Sun.May 26th- Survivor Party – Club
Of course we expect the parties as usual to feature enough soca to offer some relief to those with a Jamaica carnival tabanca.
Grand palladium has undergone some improvements and we can all expect to party in newer, more lavish locations on the propery…especially the new pool!
More information is coming soon and I will update this post as time goes by.