Bacchanal Jamaica Band Launch 2014. Review, Photos and videos. See the costumes!
Chubble and D'Bandit here to give a quickie review of Bacchanal Jamaica's 2014 costume offerings. Bacchanal's theme this year is "Conquest & Surrender" and they are offering 12 band sections. That's one more than 2013. Perhaps more equals better? Well let's see.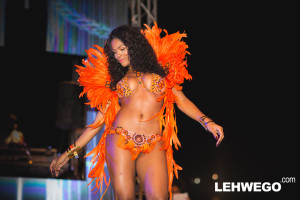 Pure Country PERSUES & ANDROMEDA
Chubble: Oh Andromeda… this female costume is HOT. I especially like the fringe (I love fringe) on the belt and embellishments on the collar. Only the frontline was modelled and in my opinion the backline (see Bacchanal JA website) pales a lot in comparison though it's actually pretty good.
D'Bandit: Let's have a moment to take in the beauty of this frontline! The backline is nothing to sneeze at though; it might not be as outstanding as its counterpart but it's fabulous. This is a vibrant colour that will stand out on the road. If you don't want to be seen, this is not for you!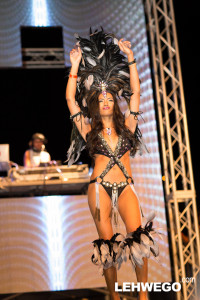 Pure Country BELEROPHON & CHIMERA
Chubble: Straight off the bat I will say I prefer the backline (which was not modelled either) to the frontline. While I like that monokinis are different, this one doesn't do it for me. It's essentially just a black monokini with jewels on it. The backline's ombre fringe on the bikini and the added white feathers of the headpiece make it pop far more and would make it my pick of the two.
D'Bandit: I have to say that the front line for this costume underwhelms me greatly. However, the back line is gorgeous! The design will do great at showcasing some of the more blessed busted ladies on the road. One negative is that even though it's gorgeous, the colour is not one I want to wear on the on the road. Black is a no no.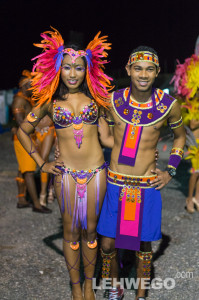 Smirnoff MURMATSU & TAKEKA
Chubble: Nice. That's my best description of these costumes. The colour combos are nice and bright. Jewels and embellishments are nice. It's just nice. Nothing more, nothing less. The tiara headpiece was modelled on the night and I much prefer it to the regular headpiece. It's different and I think I kind of even love it.
D'Bandit: My feelings towards this costume are similar to my feelings about Appleton's Josephine costume: it's ok. But to be fair it has a little more razz and dazzle.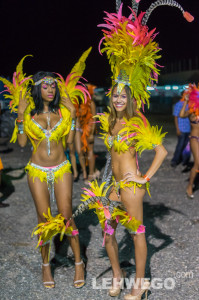 Ammars SWEET SURRENDER
Chubble: I like this one, a lot. I love to see bright colours on the road, so yellow and pink? Yes. And I like the feathers incorporated into the actual bikinis and not just the additional pieces. It's different. The added pheasant feathers to the frontline head and leg pieces seem a bit much but are okay I guess. The backline tiara is my only real issue. I don't like it. At all.
D'Bandit: This wouldn't be a Bacchanal Babes costume without pink! I think the yellow and pink combination is growing on me. The costume overall is a good one definitely above average, even though the feathers on the shoulders of the backline costume are a bit too fussy and might cause a hindrance on the road. But that headpiece for the front line is divine! It was certainly made for an Amazon.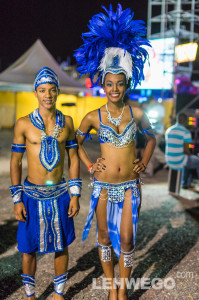 Fame SAMSON & DELILAH
Chubble: My initial reaction to this was that it's nice, but the more I look at it is the more I like it. That blue is dazzling and I like the sheer fabric embellishments hanging from the belt. Gives it a nice "Arabian nights" feel. I also like the headpiece a lot. My one issue with this costume is my WORD is it shiny! This one is going to be blinding in the sunshine.
D'Bandit: This is a stunning costume! I like that the design is hard on the top with metal work and soft at the bottom with flowing cloth. Being one of the cheaper costumes this is a knock out across all boards!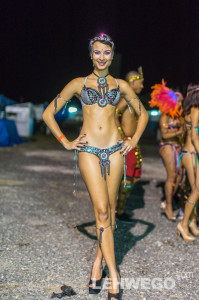 Jamaca Observer TRISTAN & ISOLDE
Chubble: This just looks like a variation of the Observer costume last year, with purple accents instead of bronze. It's nice I guess, but I'm really unimpressed. Simple is okay, but not this simple. Not for carnival.
D'Bandit: What to say about this costume? Well it's simple but pretty. I look at it and it's hard to find an apt description so let's just leave it at "simply pretty".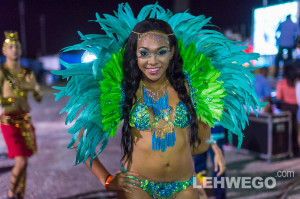 Pure Country SPARTAN SEDUCTION
Chubble: This frontline is in my opinion gaudy. All the jewels clustered together like that reminds me of last year's lime green Smirnoff costume. Which I hated. Luckily I simply disliked this one. The backline is more interesting, they utilised tie-dye which sadly I don't think they quite pulled off. Not even fringe can save it for me. But! The headpiece is very… interesting.
D'Bandit: I think this is my least favourite frontline of them all. But, it is pretty; the collar is gorgeous but the actual costume left more to be desired.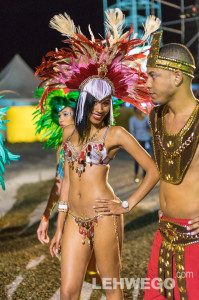 Appleton NAPOLEON & JOSEPHINE
Chubble: The female costume… Hmmm… Not sure how I feel about it. It has me on the fence I suppose. I really don't like the headpiece. The costume is okay.
D'Bandit: This costume isn't really doing much for me nor the model. It appears to be an afterthought when all their creative juices dried up. It's not ugly but neither is it wow, you can call it a regular run of the mill costume.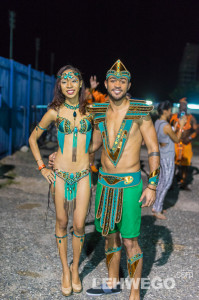 Digicel HERODOTUS & ESTATIRA
Chubble: I am IN LOVE with this costume! My absolute favourite without a doubt. The emerald and brown is a rich and beautiful colour combo. The bra has a wire bra feel without actually being one. And yes, the fringe! The tiara is simple but pretty which I also love. I just love it overall.
D'Bandit: This costume is FABULOUS!!! It needs no headpiece. This costume is giving the others a run for their money, well your money really. I'm just speechless. Everything about this costume is beautiful!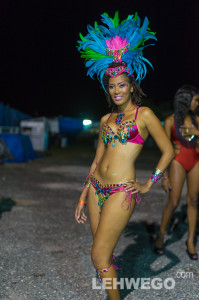 Pure Country XENOBIA OF PALMYRA
Chubble: This is probably going to be a favourite. It is hot pink and it looks good. I like it I, but apart from the colour it doesn't have that extra "oomph" for me. Also the headpiece – not feeling it. So it's a good costume, just not for me.
D'Bandit: This costume is surely one of or is my least favourite. I'm at a loss for words and not in a good way.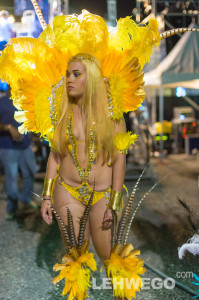 Pure Country MASSAI MAIDEN
Chubble: Rio Carnival is the first thing to came to mind! This frontline costume may be a monokini but damn it's spicy! The golden yellow is bright and popping and with all that's going on with the monokini and that huge collar, the tiara is perfectly simple. I really look forward to seeing this one on the road.
D'Bandit: This costumes itself isn't saying much but that collar and the leg pieces! This will certainly be a stunner on the road. The colour is effervescent, it just screams carnival!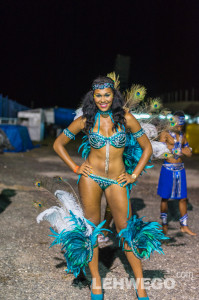 Pure Country CELTIC PASSION
Chubble: I like this one. The teal is great and the costume brings the bling factor without being over the top. I like the bra connected to choker design; it's different and (at least on the model) looks good. The backpack is a nice touch. Not sure how I feel about how it actually looks, but it's cool. Good costume.
D'Bandit: This frontline is so unique. It's a real standout piece! You have no choice to look at this costume while the ladies chip down the road. Its intricate detail; its beautiful colour and distinctive backpiece, it is certainly a beauty. One wouldn't normally use classy to describe a carnival costume but this one certainly it.
MALE COSTUMES:
Chubble: As usual, there are none that will drop any jaws but then the focus is never truly on the male costumes so that's not surprising. Persues is easily my least favourite; it looks tacky to me. Bellerophon is by far the most interesting but all I can think is black shorts + fur = HOT. Not the good kind. Samson and Herodotus are on the better end of the scale. The former, I think the chain links (given the story of Samson) was a nice touch. I'm not a fan of the cone-like headpiece of the latter. Napoleon is the clear winner in my book. The red with the bronze and gold, the design of the belt, chest and head pieces: love it all. This is what I wanna see the fit men on the road in come April 27! As for the others, they fall somewhere in between.
D'Bandit: Having seen all the male costumes so far they are mostly lacklustre. But this has always been the case with Bacchanal male costumes. They usually don't look like much thought was put into them. However, for the 2014 costumes selection I found a few that weren't that bad. Herodotus isn't too bad at all, it has a nice colour scheme going for it and overall a good costume. The Samson costume looks great it's bright and has some intricate details and is a good pairing with the female costume.
Conclusion
It looks like Bacchanal Jamaica has delivered for 2014. There are several really good costumes to choose from and none that I actually truly think are BAD. So given differences in tastes, there's likely something for everyone. As far as getting bang for your buck, I'm pleasantly surprised by the prices. They're more reasonable than I expected, starting at a minimum of US$270 for some costumes. A couple of the frontline can take you up to a cool US$400 but given the better quality and designs, that's actually not bad.
So! Sort out your money and get to making those down payments! Hurry and get your favourite. Given the variety, quality and pricing, we have a feeling costumes will be going fast.
See you on the road!