A few questions and answers about Jamaica Carnival for the uninitiated
This year has been different for Jamaica carnival. Things are changing at a fantastic rate and people are starting to notice.
First of all we have noted our first major Trini fête invasion with Caesars Army Ambush. We have also started to see the tip of the iceberg in terms of the influx of visitors from outside our shores.
One thing I tend to forget is that not everyone is a veteran of jamaica carnival. Some people have no idea about the carnival culture here. So today I will answer some of the questions posed to me by a famous carnival overachiever who will be attending our Road March.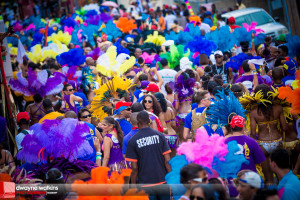 Since there are no Jamaican soca artistes what soca do you play in fetes and on the road ? Will there be dancehall?
Well we have a few artists that "try a ting" but for the most part we listen to the same soca from trini carnival. The 2 events are less than 2 months apart and many here attend over in trinidad. One thing u will notice though is that different songs will be popular here.  In general no dancehall plays on the roadmarch.
And is there even a road March competition or any competitions ?
Calypso and soca stopped playing a major role in Jamaican culture back in the middle of the last century when reggae was born in my opinion. For the average Jamaican carnival is a party. A big long intense road fête. We used to have a little stage in the days of Byron Lee, long ago, but that is no more. In Jamaica the road is just for jamming.
Don't get it twisted though, you have to look your best.  At the start of the parade, along Hope Rd.,  scores of professional photographers such as the world famous Dwayne Watkins swoop in to capture you in all your glory.
See photos HERE.  
Is there really only ONE Mas band in all of Jamaica ?
Yes. Bacchanal jamaica has held the flag alone for years. It's been a struggle for them to do so at times but they have never let us down. In the last few years the inertia of the past has been broken and costumes have improved and from what I am seeing will continue to do so. Bacchanal jamaica has a history of putting together an organized, safe and fun road march with a feature ALL trini mas bands could learn from. These little bags of glorious, thirst quenching water.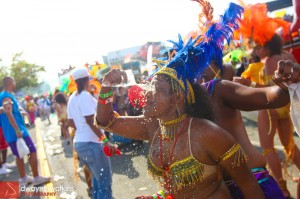 Approximately how many masqueraders are catered for in this ONE band ?
I THINK the number is 3500. However a substantial proportion are not in traditional carnival attire but instead wear the t shirt option.  This too is changing as more and more want to be captured on the road looking their best.
If I'm playing in the t shirt section can I wear a costume of my own, can I reuse an old Carnival costume from Cropver or Trinidad?
If you get a Tshirt wristband you can wear your own custom creation however it is frowned upon by Bacchanal without prior approval in order to avoid unacceptable costumes on the road. Lehwegofrontline.com takes care of this entire process for u if it's something you want to do.

Wearing costumes from trini or bajan bands is prohibited. Don't do it.
What drinks are served by Bacchanal Jamaica on the road ?
Mostly Appleton products in terms of rum. Pure country have a premium bar on their truck but I'm not a drinker so I can't really say what's different. I'm sure Johnny walker will be available for those who are worried (try the white rum man. You come jamaica, drink our drinks;)
How long is the parade route ?
It's not as long as a trini route but takes the same amount of time to cover. So in Jamaica there is a bit more time to jam on the road in one spot.
Who exactly are these "Frenchmen" that throw the biggest events ?
Frenchmen are party promoters.  Just like the promoters beach house etc.  They don't throw the biggest events but they are consistent with their quality which is high.
It depends on the event but frenchmen events can hold their own against any premium event anywhere when they want to. If you come, it's good to try them out.  The Pure Country section of Bacchanal Jamaica is also commonly known as the "frenchmen" section (but its pure country)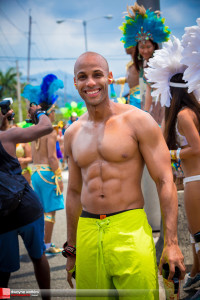 Is it true Jamaican women party every where in flats for Carnival ?
Now this is a touchy subject. I have to admit that in the past the tank top, jeans shorts and sneakers were the norm of Jamaican soca fetes, especially the larger ones.
I'm glad to say that things have changed and style is now an integral part of carnival attire for men and women here. At the same time remember that when it comes to it, we come to wine! If the high heel boot dem a hold her back….flats it is!
There you have just a few questions answered.  I am sure there are more.  Leave them in the comments section here or on the facebook page.  I will do my best to answer them all!
If you want to come…its not too late.  Lehwegocarnival.com will help with tickets!
Take a look at previous posts on Jamaica carnival HERE!
Are you going to #dothedouble