The major bands have launched.  You have decided on your costume.
You have started making arrangements with The carnival connection or International Concierge service to get your costume.
It's now time to get serious with sorting out your body.  Hopefully you have read my previous post about carnival preparation and are already getting along well in the gym.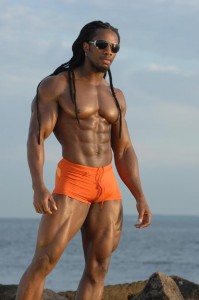 It's now time to turn up the heat.
Guys…for the next 3 months its time to get serious with the bulking.  No cardio…no serious dieting….just pump iron.
Remember to make your sets last approximately 40 seconds and also remember the principle of Time under tension.  These factors will give you the chance to put on a few pounds before its time to start the serious dieting and cardio come December.
Ladies…I can't leave you out.  Dont try the…"I will get all thick and veiny" story with me.  Let me tell you this!  Ladies (in general) want the fantastic body but few are willing to work for it.  Getting a trainer to show you the ropes and putting some effort into a weight lifting regime will do wonders….in ALL aspects of your life(wink wink).  Imagine two ladies both weighing 130 pounds…one mostly muscle….one half muscle, half fat.  You get the idea.  Sure you can mix in the cardio…but don't leave out some weights.   In fact a bit more muscle mass makes it easier to get the 6 pack, cause muscles burn calories. Click here for all you need to know!
If you are a beginner…start with something as simple as POWER walking (not a lazy stroll).  Walking and jogging burn the same amount of calories per Km.  Walking just takes longer:)  The important thing is to be disciplined.  Don't give up!
Guys, if you work out and come good for carnival, you get noticed.   Ladies…same thing.  It's worth it to get healthy and set yourself apart from the crowd. You spent the money…make it worth it!
See what Lehwego is about HERE
Want to get more on your mobile device?
Windows mobile phones click here
Android phones click here (UPDATED)
Ipad users click Here or for a Webapp click Here 
click this to follow us on twitter——–>Follow @lehwego
http://www.facebook.com/plugins/likebox.php?href=http%3A%2F%2Fwww.facebook.com%2FLehwego&width=292&colorscheme=light&show_faces=true&border_color&stream=true&header=true&height=427