The Wadadli Files: White Fete "The Caribbean Snow Storm" 2013
Yes, this post took me FOREVER to write, but I needed to recover from the EPICNESS that was White Fete.
I'll admit I was slow to jump on the White Fete bang wagon, this fete has been around for roughly 12 years and I have only been to the last three. I know I'm lame :/ LOL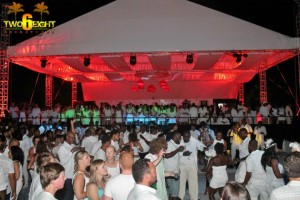 Seriously though, I've been to a few All White themed events but The Caribbean Snow Storm is definitely my favorite.
The Decor, The Miami-esq vibe, the Beautiful people  in White, The Premium Bar Stations, Live Local Performances, Great Dj's , VIP Lounge, what is not to love??? One of the things I really love about this fete is the different specialty bars, if you are a Vodka drinker go straight to the Absolute Bar, English Harbour 5 year, no probs there's a bar for that, Nuvo, bar for that, you get the idea,no need to stand among the masses trying to get a drink.  Of course there are still general bars however these specialty bars seriously curb the bottleneck.
This fete …….. a MUST if you are in Antigua at the time, words won't do it justice, see for yourself
Photos courtesy "Two6eight Promotions"