Sweet Myst-Behaving Antigua Carnival 2013
I have a confession…….I missed out on 4 days of Antiguas Carnival to meet up with the rest of the Lehwego crew in Barbados for Cropover. Did I have a great time there, yes I did, but right after foreday I was on the first flight out of BIM back to ANU because there was absolutely NO WAY I was going to miss playing mas on the streets of Antigua on Carnival Monday and Tuesday.
Yes, you read correctly two extremely long days of mas on the road plus an after party the friday after carnival as opposed to a few hours on the road for cropover for basically the same cost. No brainer, straight flight back to Antigua.
While there are many bands to choose from my band of choice is Myst. Personally I think this band has all the ingredients needed for you to have the BESS carnival experience while in Antigua. Prompt costume delivery, exceptional customer service, beautiful costumes, beautiful people, nuff vibes basically the ultimate road experience. I've even heard it said by another popular Carnival blogger that Myst is IP perfected and I would have to agree with that statement 100%
For the first time in my 6 years of playing mas with MYST I was actually early and met the band at the band house before moved off. Mas on Carnival Monday usually starts at around 1pm giving revellers enough time to sleep off the alcohol from Jouvert morning. However bands move off on Antigua people time which is an hour – an hour and a half after the scheduled time. I arrived at the mas camp to meet drink and music trucks lined up and hundred of anxious masquerades decked out in Monday wear ready to go.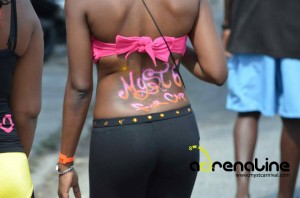 The band started off with a steady chipping until we go onto our regular stretch of road on the outskirts of town. For some reason, I don't know if it's just me, but when the band get outside of town that is when the "Adrenaline" get into mystics, waistlines start to roll, batty start to bounce and all manner of mystbehaving shifts into full gear until we get to our food spot. This year was no exception.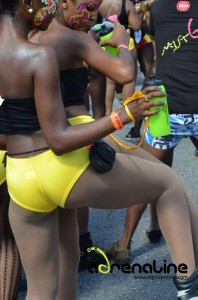 When we got to the food stop lunch was being served from four buffet stations with salad and soup stations on the side. Rather than pre-packaged lunches mystics were able to customize their meal to their liking. The lines moved quickly and while I have never really had issues with food distribution while playing mas with myst, this was definitely a good idea. Thumbs up. The lunch spot was also ideal, it had ample seating and everyone was able to sit in the shade while enjoying lunch.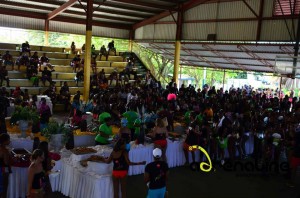 After we refueled it was back on the road to "Stop get mad Jam, Mash up the place jump and mash-up the place"  (you had to be in Antigua for carnival this year to understand that lol) as we headed to the Antigua Recreations grounds to cross the Carnival stage. After crossing the stage at around 6:30pm the jamming continued as we made our way back to the Myst Capitol.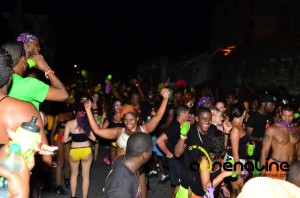 This mystic jammed a bit too "for cup" (again had to be here for carnival to get that) on the road and left the band at around 8pm to get some much-needed rest for Carnival Tuesday but I was told the party continued well after I left.
Pictures from Carnival Monday can be viewed here courtesy Myst Carnival
Stay tuned for my Carnival Tuesday review.