Sunny Side Up New York 2012 review by June plum!
 Here is a contributed review by someone I am trying to get to write for me regularly….if you like it leave a comment!
Sunny Side Up New York 2012 review by June plum!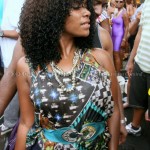 This was my second year in a row going to SSU and the second year I left looking forward to next year. Why?…
VENUE: Eh. In Brooklyn you have to resist the urge to compare every venue to those in TnT. You are rarely going to find the lush gardens, picturesque views, seaside landscape, ample parking venues. So you take it as it is given…a space to accommodate the headcount. But I SWEAR if I see one more stretchy draped mess I will pull out my clip on ponytail and beat someone with it.
MEN: Let me get back to this because I may need to collect myself first
DRINKS: You all know I'm a Henney drinker and the bartenders DID NOT disappoint. No fuss, no big set of hassling, friendly service with a smile (yes bartenders DO smile too) and great taste. And it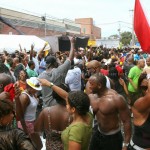 always helps when the bartender recognizes your face and only wants to know if you want a single or double…double please. Oh…and the shot girls with their mobile concoctions. I don't know what it was but it was deeelish.
MUSIC: Pure niceness. Don't ask me who the dj's were because I don't remember but what I do know… they had me tuned in and in constant rotation (ahem…literally)
MEN: nahh…me nuh ready yet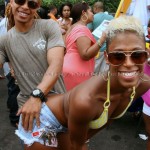 VIBES: I have to say SSU was slow to boil. It started around 6am. I arrived at 9:30ish and there was a lot of small chipping, socializing and some wining but LOTS of anticipation for great things to come. At some point someone turned up the vibes meter and it exploded…NON STOP… no body studying mash toe or cute face ( well maybe some were) but lawd di ting tun UP and it was a time. And then came the foam and the water…I heard someone picked me up and carried me into the foam and water but If you put me in from of a judge and asked me if it's true I will say " I do not recall". Overall, GREAT VIBES. I left around 2:30pm and people were still jamming like di ting just start.
Okay, back to di MEN
 I would say of all my fetes for the summer, SSU had the best collection of winer boys. Not the juk up massive that you will usually find that looking for a free bamcie brush. The ones that you have to stand back and watch while you move your head in rotation of the waist before you realize you getting dizzy. Then ketch yuhself and say DAMN…"how dey do dat", before you dive in to test out di waistline. And it didn't hurt that they were scrumptious to look at. As usual the women outnumbered the men BUT that just made the men more eager to spread the love. Did I mention they were scrumptious (insert pause while I reflect on some of Brooklyn's finest)…okay yeah. Men were * two thumbs up*.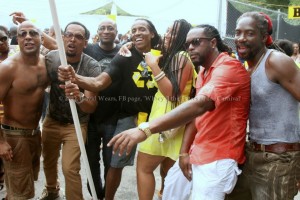 Oh…did I mention there was FOOD? I didn't get to have breakfast but I was able to taste some pork chops and some corn pie (I think that's what it was). Whatever it was, whoever made it hand sweet nuh rhaatid. I need the number of that caterer STAT.
Unless they were there before I reached or after I left I did not see a riddim section. If they were not included this year, SSU PLEASE make sure they are scheduled for next year. I too love to hear a good riddim at a breakfast fete.
OVERALL: FUN FUN FUN … Fab crew FUN FETE GREAT TIME and I look forward to attending in 2014.
Thanks to Whey all the fetes are for carnival  for the photos.  See more here!
Sunny side up or Over easy?