Settlers: The West Coast Experience – Review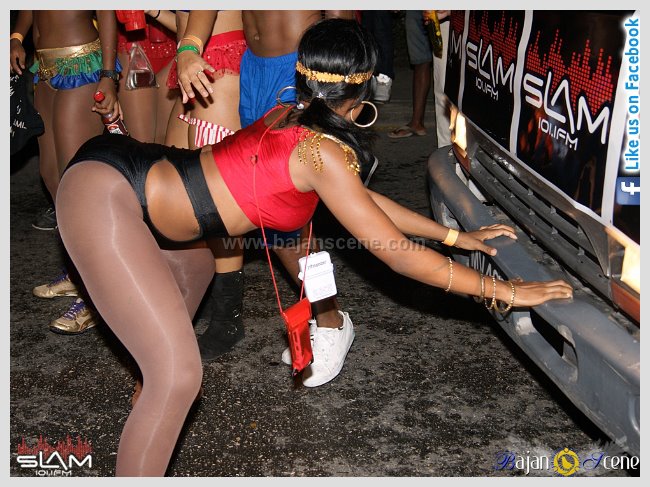 From the minute I left work on the evening of Friday 13th April 2012, the only thing on my mind was Settlers: The West Coast Experience.
A Carnival in only its second year, they call it an experience because…well, you kinda have to experience it. With revelers assembling at midnight and moving off at 1.00 in the morning, it has a J'ouvert vibe to it. Yet, the music played is not your typical Carnival fare: you're as likely to hear Rihanna, Swedish House Mafia, David Guetta, Konshens, Vybz Kartel, Wiz Khalifa, Usher and even Earth, Wind & Fire, as you are to hear Machel Montano or Li'l Rick. This is by design: the management of Settlers, in striving to be different, have decided to employ an eclectic mix of music by top DJs from around the island, in order to create a surreal road vibe like no other. It helps that something about the night seems to induce patrons into behaving far worse than they would in broad daylight…
The question is: would Settlers live up to its promise? Only time would tell. As I know management personally, I'll try to be as unbiased as possible (but just between me and you, I had a blast!).
From the Top Now, With Feeling…
Before we get to the Carnival, I gotta give a thumbs up to the  the park-and-ride system, which was a huge success. It began on time and ended on time. Parking for revelers was more than adequate at the nearby St. James Secondary School and since it was close to the endpoint of the Carnival, it ensured that revelers did not have to go far to get to their vehicles once the jump was over. Good start so far.
While assembled at the starting point, revelers had to wait a while before the Make-Up Artists arrived, so that the ladies could get dandied up and look their best on the road (only to become completely disheveled literally minutes afterwards). By this time, a huge crowd had assembled at Esso Payne's Bay. The streets were lined with onlookers. It was an unusual sight to see so many people awake and out of their beds to watch the debauchery that was about to take place.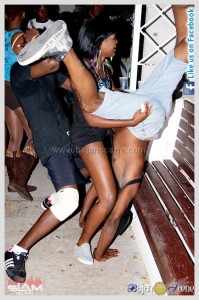 On the Road!
As soon as the truck started rolling, the action began. This was probably in large part due to the rum punch being served prior to the jump (it's one of those drinks that creeps up on you). Before long, however, crowd control outside of the ropes became something of an issue. There was literally a SWARM of stormers which had descended upon the Carnival, waiting for any opportunity they could to get by security. Thankfully, most of the stormers seemed intent on having as good a time as everyone else in the band. When confronted by security, most of them beat a hasty retreat to the sidelines.
At times it did appear that there was a need for greater security, but it did not affect the atmosphere of the revelry in the Carnival, as revelers continued to act in a most ridiculous manner. Apparently everyone had left their sense of decency at home. I couldn't remember feeling this good since Carnival in Trinidad.
Each Zone increased the level of indecency, from the Paint Zone to the Glow Zone to the Mud Zone. But the worse behaviour – by far – was exhibited in the Foam Zone, a new addition this year. A foam cannon which seemed to dribble at first eventually burst into lathers of foam covering revelers in the street. My experience from Sunny Side Up had taught me that if you want to create vibes at a event, foam is one of the best ways to do it! Of course, I can't say much more than that, as what happens under the foam, stays under the foam…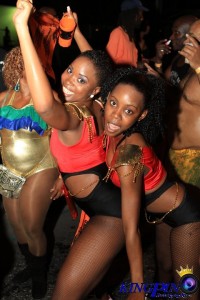 Breakfast…
We reached the endpoint at the large Trents Playing Field at about 5 in the morning. On to breakfast, where I was greeted by an all too familiar sight – a few small tents and a small number of volunteers working feverishly to serve food to a ravenous, drunk and disorderly crowd of revelers either unable or unwilling to wait to be fed. One big positive was that, unlike in previous instances, there was more than enough food to go around – so much so that some boldfaced people went around partaking in 2nds and 3rds before everyone else had eaten.
The breakfast options were varied and pleasing for the most part – there was a station for Fish lovers, Meat lovers, Vegetarians and for a mix of breakfast foods as well. There could be no complaint about the quantity or quality of breakfast, but there was definitely room for improvement in the manner of service and distribution. By this time however, it seemed that most people were sufficiently satisfied with the jump to not be overly perturbed by the mad rush for food.
Overall, based on the huge improvement in the costumes from its first year, the great on-the-road vibe and experience and the overall breakfast quality, I would give Settlers a solid B. They have a great event going and it has really captured the imagination of the country in a way that other attempts at similar events in the past have failed to. With a few tweaks here and there, I can see this becoming a must-go-to event not only for locals, who are now firmly behind it, but also regionally and internationally.
Take a look at Gallery 1, Gallery 2, Gallery 3
Already looking forward to next year. But before we even think about anything else….
CROP OVER!!!!
Thanks to bajanscene, Paul Osbourne and kingpin for the photos!