Scorch _uck Work Barbados 2013 – Review
Let me give this review some context:
Since the year started, there have easily been in excess of 80 party cruises in Barbados…at the very least 80 (EIGHTY). The number may in fact be closer to (or over) 100. I love cruises in Barbados, but this is too much!
There are 2 main party boats in Barbados, the Buccaneer and the Jolly Roger. The Buccaneer is a relatively small barge which can leave you feeling claustrophobic and the Jolly Roger, while more adept at holding parties, has a tendency to rock at times. You can probably squeeze at most about 300 to 350 people on either of these vessels.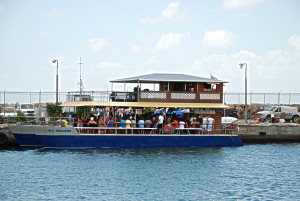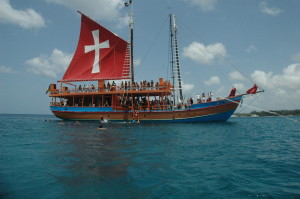 Neither of these boats can hold a candle to the Harbour Master, a 3-level boat with a capacity of around 1,000 made for parties; unfortunately, it was apparently making losses from week to week (promoters couldn't get it filled to justify the costs), so it left for Trinidad and by all reports, our neighbours are making great use of it.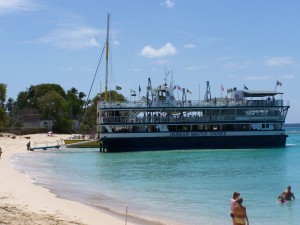 Catamaran cruises almost always excellent, but are mostly private affairs (Limerz being an exception).
All that being said, Scorch _uck Work came to Barbados on Friday 21st June 2013, on board the Jolly Roger. This was going to be my second cruise for the year. The first one being a massive disappointment led me to swear off of cruises until Crop Over came around (Roast Cruise, Limerz Cruise and Booze Cruise generally do not disappoint). I have always heard good things about Scorch cruises but I was still skeptical. Nevertheless, I and my comrades packed our cooler with drinks and "ducked" out of work (or rather, took a half-day that was coming to me for a while).
From moment I got there (which was at 3.00 pm, even though it said they were sailing at 2.00 pm, knowing that cruises in Barbados NEVER start anywhere close to on time), there was vibes. On board, it was a sweet atmosphere from the word "go". You can always tell when a party is going to be good even before it starts. Scorch got a 10 out of 10 in this regard; people were ready to party right from the start.
As with all cooler parties, there was no waiting/walking around for drinks (an advantage that cooler parties will always have over regular parties).
You know my favourite part of a fete? That interlude at the height of the party's "prime-time" when you can walk from one corner of the boat (or venue) to the other and you just get random wuk-ups along the way from females as you pass…for no reason other than being close by. This particular interlude felt never-ending…
By the time it was all over, I had all of 2 (blurry) pictures on my phone. The price of the ticket included a buffet style lunch which was tasty and filling (I wasn't expecting food, so even at BB$100, it felt like value for money). Even though the boat set sail late, hardly any time was lost on board as it returned well after 8 instead of the scheduled 7 o'clock. I definitely felt like I got my money's worth.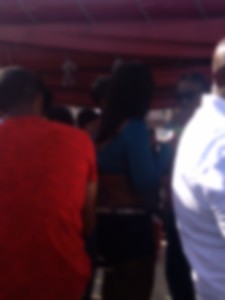 Will be tough to pass up another Scorch cruise when it comes into town, that's for sure!