Prep! Antigua Carnival 2k13 Tshirt Mas
The Carnival Season officially started in Antigua on July 27th 2013 with the opening of Carnival City.
Carnival here is a time of culture and festivities however one of the unique features of our opening parade is our T-Shirt Mas. This is not only a "prep" for persons who will be playing mas on Carnival Monday and Tuesday but it is also an opportunity for those not playing costume mas to revel in the streets in more comfortable attire for less than a quarter of the cost ($50us) of costume mas with all of the amenities. T-shirt mas is a fast growing part of our celebrations with numerous mas bands and business places offering packages.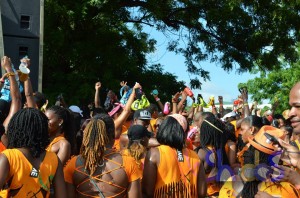 Of course ya girl couldn't miss out on T-Shirt mas and took to the street with my band of choice "Myst". Why Myst you may ask?? Well personally I think they have the best customer service, music, drinks flowing and over all vibz. So far they have never disappointed. Additionally a portion of the Myst T-shirt mas proceeds goes towards our Cancer Awareness Society. So you can feel good while you're jamming 🙂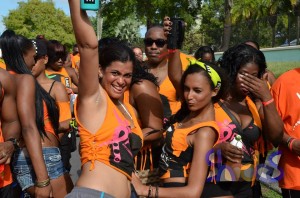 Picture it a sea of orange as far as the eyes can see, men and women jumping, waving and getting on "For Cup".
Sounds like fun doesn't it?!?!? Yea I know it does.
To see more click here
Photos Courtesy Shades Inc.