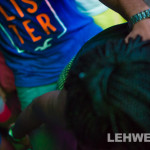 We left beach house a bit later than expected for reasons beyond human control (it's private Ryan's fault) and made our way through the twists and turns of Barbados' back roads to lush. By the time we arrived the party had been on for hours and seemed to be in full swing. This means no standing up waiting around to build a vibes, the party was good to go from the first step in the door.
I ran into some old friends and we got into party mode immediately. The crowd was large and the people near the front were full of vibes, including Lawless who I saw surrounded by a bevy of rabidly wining women.
The venue was beautiful and "lush" and just the elevator ride to the party was visually spectacular.
Live performances punctuated the night and patrons were treated to party favors all night long.
In the end it turned out that we left beach house and reached lush at the perfect time. No build up just wine.
This party also gave rise to the term "wine per dollar".
Given the 33$ ticket price the wine per dollar ratio was exceedingly favorable. With your cooler full of your favorite drinks and the sweet vibes in this fete you can't go wrong!
Lush…tek win!