Collision foreday morning 2013
Just like in Jamaica, Jouvert (foreday morning) in Barbados lies on friday night.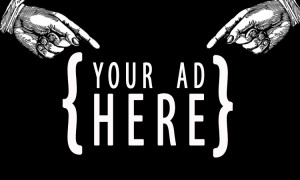 All the bands start at a unified predetermined location with a mass gathering complete with music etc..  The bands are not allowed to give their patrons alcoholic drinks until they have left this area, which is done in an organized manner, band by band. The Jouvert costumes in Barbados are in general much more intricate and attractive than Jamaica or Trinidad. You get more than just a t shirt for the money for some of the bands and most give a good, drinks inclusive experience.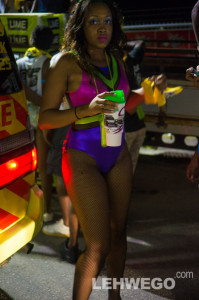 When you get going the vibes are cool, rum punch and water are self serve otherwise its standard running behind the drinks trucks. The bands all take the same route and it does get rather tight at times. One issue is that you can be stuck in bottlenecks for extended periods of time. The next issue I had  was the male to female ratio. There were times when I had men on my north, south, east and west. This my fellow carnivaloholics, is unacceptable! But seriously I think in general when looking through the different bands on the route the male population did seem kinda high no matter which band you were in….fortunately there was still enough wine to spread around in Collision, the band I was in.  Collision was organized and had a nice crowd and good vibe.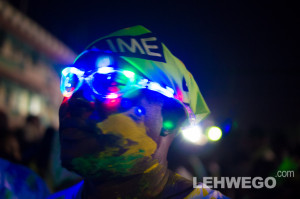 On a positive note, the route seemed extremely safe and protected with a heavy military presence at the back in case of emergencies as well. The route was long and arduous and I have to admit that half way through I started to wilt.  You have to be strong to finish this thing with vibes.
Take a look at a few photos and a video!