Where to Party for Crop Over 2013? The Lawless list!
Post contributed by "Lawless" our Bajan correspondent
For previous reference, see my post Where to Party for Crop Over 2012 and Lehwego's take on a 2013 Bajan party list HERE.
As you can see, Crop Over provides a glut of options to choose from in terms of not only the number of parties but the variety on offer. It is my personal opinion that when you come here, you must try at least ONE cruise and and two if you can. Also, Bliss as an all-inclusive is always top of the agenda. I have given some thought to the Trini invasion taking place and I have decided: no. I am not going to any Trini fetes in Barbados. There is Carnival for that; this is Crop Over.
This year, my schedule for Crop Over weekend runs thusly:
Thursday 1st August – Lush: The Ultimate Cooler Party Experience, starts at 4 and goes til late, went for the first time last year and it was excellent. I know Beach House is coming, but I'd be expecting what I experienced in Trinidad and I can't guarantee that, at 175US, it would be comparable or worth it. Plus, it is Crop Over; must support local!
Friday 2nd August – Roast Cruise from 2 in the afternoon; extremely wild, nuff said.
Saturday 3rd August –Foreday Morning (Island Fusion), starts at 2 in the morning; Bliss from 2 in the afternoon. If you coming to Crop Over and you have only one fete to go to, most people will tell you to go Bliss. It's an all-inclusive to rival most all-inclusives anywhere in the Caribbean.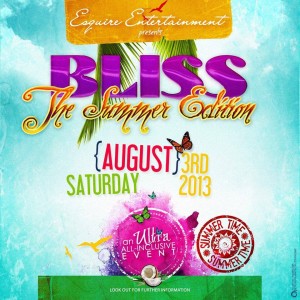 Sunday 4th August – Limerz Cruise, from 11 in the morning; tickets are already available at www.islandetickets.com (f0r more info, see this announcment: http://us4.campaign-archive2.com/?u=36c835bd3b2e9efb8d2e02418&id=d3d19e95a0). This is in direct competition with Booze Cruise, which has a longer more established history. But I have had too much fun the last 2 years on Limerz to change now.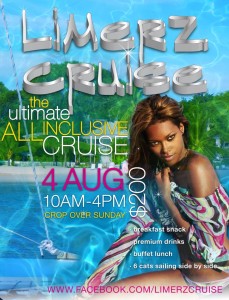 As for the first Monday in August? I am trying to keep an open mind because both Fantasy and Zulu International have presented some very interesting offerings. But the fact is that I jump where my friends jump and my friends jump with Baje International. It remains to be seen what Baje will bring and as usual, they're launching after everyone else (confidence or arrogance?) but unless the costumes are absolutely tragic (and overpriced), that is my tentative choice.
Of course, many things can happen between now and August, so we'll keep you updated!
Lehwego!