Settlers: The West Coast Experience.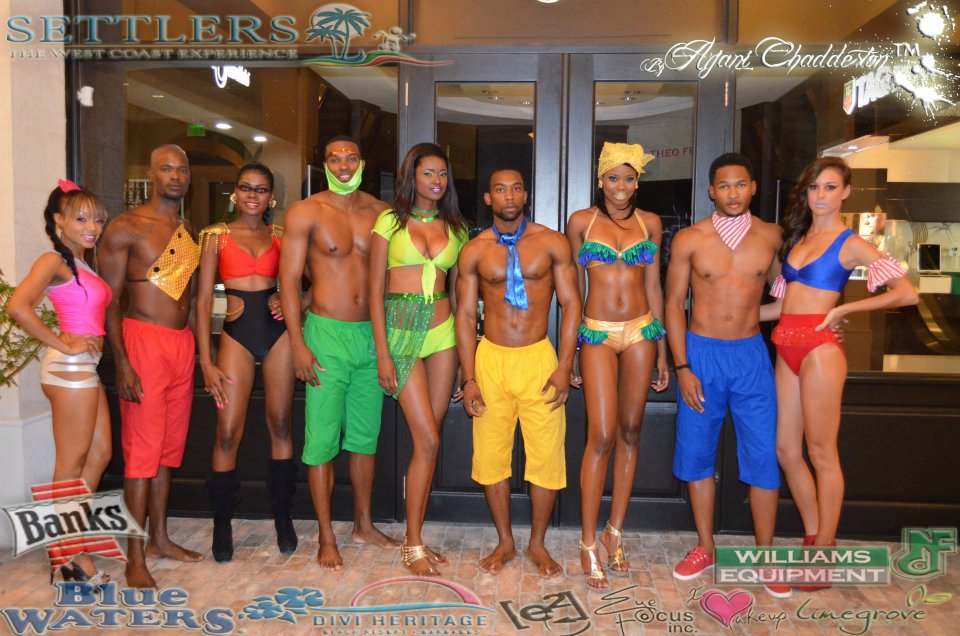 I recently heard of an alternative carnival concept going on in Barbados called "Settlers: The West Coast Experience" (thanks Lawless).  I got in touch with the organizers and asked them a few questions.
1. Tell me about settlers:the west coast experience.  What is the concept?
Settlers is a heritage tourism product- Barbados' ONLY all inclusive travelling midnight carnival.
 2. What is your line up of events?
We started in 2011 with some warm up events called 'Sushi Sundowns'. This years each Sushi Sundown has a theme. Themes vary from Zumba to Wuk-up Workout. All very exciting and with an aim to get persons ready for April 14th at 1:00am.
 3. Where is it held? how much is it? What time etc?
Settlers is held on the beautiful platimun coast of the island in St. James. We start on April 14th at 1:00AM from the bottom of Holders Hill and travel to Folkstone Marine Park.
 4. Is this the first year?  /  How long  has this been going on?
This is our second year.
 5. How many people take part?
Last year we had approximately 250 patrons and five times the amount of spectators. This year is already bigger and better. People are generally extremely excited!
6. Is this out of season event received favorably by the general Bajan public?. 
Bajans are generally 'wait and see' people. The event takes place outside of the Crop Over period but within the tourist period. Tourism is a serious money earner for Barbados. As a result, it was thought that the best time to do such a project would in the tourist season. 
We gave persons a wonderful on the road experience like none other and our patrons had a great time. As a result, the event is currently at the tip of everyone's tongues. The government, police force and all other stakeholders have been extremely supportive. We proved that a few young people with a goal can work together effectively and efficiently to produce something of integrity and quality. I generally believe that people respect that. 
 7. Is the experience more an all out wining fest or more of a cultural expression/traditional mas event?  
The experience is so much more than an all out wining fest. You park your car and leave the rest up to us. From the transportation to the start to the sumptuous breakfast at the end. Our jump is not the typical carnival experience. One example is the fact that we have zones along the route particularly our foam and glow zones! We see ourselves as having a mandate of being "strict guardians of our heritage" as every year the theme changes with the chronological order of the settlers of the island. There is a serious historical aspect to the entire carnival. As a result our research must always be as accurate as possible as we try to portray people's culture in the most respectful way possible. Our past is an important part of knowing who we are. Settlers is a fun way of teaching people about who exactly we are and where exactly we, as Barbadians, have been.
8.what are the future long term goals? eg. expansion to different islands, becoming a part of kadooment?
Our main goal is to continue to enhance the product and work assiduously to make it a staple event on the Caribbean tourism calendar. Of course the thought of expansion to different islands has been a serious consideration. This, however, would need to be done in a way that does not compromise the brand or quality we intend to provide.
I personally love the way these costumes look and think that something like this would do just fine in Jamaica.  Of course bikini, beads and feathers mas is here to stay but I think this would look much better than the T-shirt sections that currently exist as alternative wear in Jamaica.  Will anyone here in JA take me on?  We will see.
Anyway, our correspondent, Lawless, has been charged with the task of taking part in all the Settlers events for this year and reporting back the news.  You will hear more later.
A gallery of photos does not always do justice so instead, take a look at a promotional video to get further acquainted.