As I land in Miami, I'm leaving from the jumbo jet straight to what I KNOW will be a special party. The "Ministry of Appreciation" (MOA) will be throwing their first event in Miami called White Hot Miami. I have known this group for a while now and you have seen many of them over and over in my photos. I can assure you this event will be comfortable, well decked out, all inclusive and FULL of VIBES!
Here is what they have to tell you about what to expect: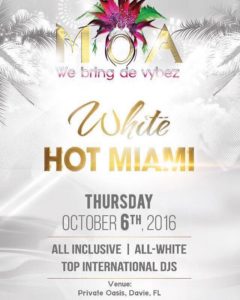 If you've set your sights on Miami carnival 2016, and we sure hope that you have, you'll want to check out this ultra-exclusive fete brought to you by the secretaries of #MOAApproved. MOA refers to the Ministry of Appreciation, they are a well-recognized group of beautiful, vivacious, sexy no-tail veteran carnival chasers! MOA lives up to its claim of #webringthevybez with solid supremacy. If you've ever had a chance to see this group in action, or better yet, had the privilege of feting alongside this cohort, you'll know that its complete total shellings, from the instant that they touch down.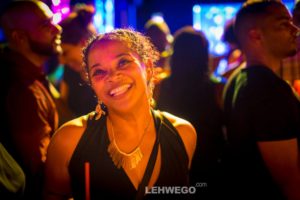 Plan to get your Miami Carnival 2016 started on the right foot as MOA brings you 'White Hot Miami' on Thursday October 6th, 2016, from 8pm until 1am-ish. Set in a gorgeous, lush tropical oasis in the Fort Lauderdale, FL vicinity, the venue is being kept secret, and this just adds to the allure of this fete. Patrons should plan to park at 1775 S. Flamingo Road, Davie FL, which is just a short hop from the Fort Lauderdale airport and a cool uber 30 minute uber ride from the down town Miami area. If you are getting in on Thurday night into Miami, this is one fete that you don't want to miss! Head straight off the jumbo jet to MOA does "White Hot Miami."
Mango Reef Promotions ([email protected]) will be offering a limited bus service from down town Miami to get revelers to 'White Hot Miami', so you can feel free to continue whatever pump you started earlier that day.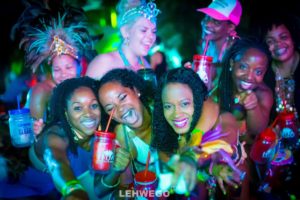 This is an all-inclusive event that will feature an international DJ cast- Dei Musicale from Trinidad and Tobago, DJ Richie Ras from Jamaica and Team Soca's Freeze International from NYC and DJ Ghost from the DMV. Premium liquor, cocktails, wine and beer will be included. Patrons will leave with their palates satiated with familiar flavors and delicious mouth-watering cuisine from Trinidad and Jamaica.
So, organize yuh crew dem and plan to make some memories with the MOAApproved family.
Limited early bird tickets are on sale at Eventbrite.com. Doh Stick and doh say yuh didn't know. This is a #nobeggarsfete but when tickets are gone, they are gone. See you for "White Hot Miami." This is fully #MOAApproved #JoinUs