Miami carnival 2014. A weekend of fun!
It's almost time. Time to do the quadruple if you have the strength of waist and pocket to do so (and if you can get the vacation leave.
I unfortunately will not be making it personally but hopefully a few members of the team will be able to swing through.
They gave me the run down of what they expect to be the best parties there.
If you know of other good fetes let me know. I will post it here
#lehwegorecommended fetes!
Roast cruise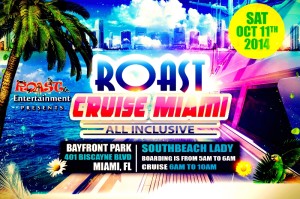 "ROAST Cruise goes to Miami for Miami Carnival 2014!
On Saturday October 11th,  from 6am to 10am, ROAST Cruise sails the waters of Biscayne Bay on the luxurious South Beach Lady yacht. Enjoy an all-inclusive
party cruise with a PREMIUM open bar, breakfast and the insane ROAST Cruise vibe!
Sailing time is 6am SHARP, with boarding at 5am from Bayfront Park Marina, located at 401 Biscayne Blvd, Miami, FL 33132.
Tickets are US $100."
Tickets are secured by RSVP'ing to this link
The boat we are using is the South Beach Lady, a 125′ luxury yacht with 4 bars on 4 levels, flat screen TVs, an open air sky deck and a DJ sky booth.
The premium drinks list includes Johnnie Walker Black, Grey Goose, Ciroc, Hennessey, Mount Gay Rum, Appleton Rum, Bombay Sapphire Gin, Patron Silver, Merlot, Chardonnay, Pinot Grigio, Cabernet, Bud Light, Corona and Heineken.
Candy coated cruise

Candy Coated Events presents . . .
Candy Coated Cruise
Friday 10th October
11am – 3pm
Lunch Inclusive
$60 US
Featuring: Dei Musicale and Nuphoric
Tickets available:
Online at EventBrite from 8th August
and
Committee Members: TRINIDAD | NEW YORK | MIAMI
Vale vibe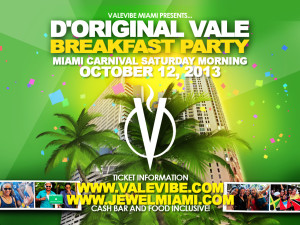 Rated the #1 carnival event throughout the Caribbean for Carnival is being produced for the first time ever outside of Trinidad and Tobago. D' Original Vale Breakfast Party will descend on the shores of Miami during the carnival weekend on the MORNING of Saturday October 11th, 2014 (TIME 3.30AM – 10AM) the True Original Experience of Trinidad will be transplanted into South Florida Carnival Weekend.
The exclusive Tropical Venue selected for the experience is one of a kind with its breath taking tropical ambiance and scenery. All the signature elements of this great event the Water Zone, Rhythm Section, Wall Crew, Special Guest Artist and "Trinidad Style Caribbean Food" will make you feel like you are in the Old Vale on Amethyst!
Come and join us and experience what everyone keeps talking about…. D' Original Vale Breakfast Party
Event Pulse:
FOOD INCLUSIVE WITH YOUR CHOICE OF CARIBBEAN OR AMERICAN BREAKFAST
PREMIUM CASH BAR AND VIP BOTTLE SALES AVAILABLE
MUSICAL ENTERTAINMENT BY:
THE DUCHESS (TNT) — HYPPA HOPPA (TNT) — PRIVATE RYAN (TNT
DJ BANDIT (CANADA) — BACK TO BASICS (NYC) — HOUSE ARREST (MIA)
AND MANY MORE SURPRISES…….
Miami Carnival Options:
Thursday Night – Tribe Ignite
Friday Morning/Afternoon – Rise &Shine (beach party….overlooking water but more so next to the beach in a parking lot lol) OR Candy Coated Cruise
Friday Night – Big Phat Beach Party, I Am Soca – Miami, Miami Nice Shorts & Stiletto's, or more mature crowd – Sundown Cooler Fete
Sat Morning – Vale Breakfast Fete, Broward County Jouvert, Vaughn's Red Eye Party, Roast Cruise Miami
Sat Night – Miami Nice Boat Ride, RAVE or GBM Showcase
Sunday Day – Road march
Sunday Night – Jabba Strikes Back
Monday Day – Wet & Wild Pool Party
Monday Night – Socavivor Boat Ride
Thanks to Jouvert Mike for the help!