Lush Cooler Fete, Barbados – 2013
Got in touch with the Lush Crew to get some info for you recently.   Here is what they had to say:
LUSH – The Ultimate Cooler Party Experience' is a unique blend of festive partying and great liming in scenic surroundings while having a ball to the music and festivities of the Annual Crop Over Festival!!!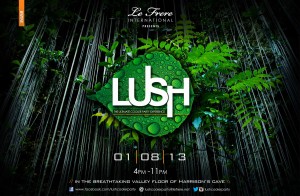 Bring your coolers and come jam with us as you wine to the latest Crop Over hits and grind to the timeless soca classics in a pulsating experience you'll never forget!!! Enjoy the scenic fauna and panoramic vistas while taking in the best in Crop Over festivities. Party to your heart's content in a breathtaking venue!!!
Each year, our goal is to keep improving on the previous LUSH so that we maintain our slogan of being 'The Ultimate Cooler Party Experience'. This year is no exception. Starting with the breathtaking venue of Harrison's Cave which has never hosted such an event and is one of the island's major tourist attractions. In true LUSH style, we do have some exciting additions to LUSH 2013. But, why would we give it all away here when our date is 1|8|13!
To get your BDS$65 tickets for this event you can visit any of our 3 conveniently located ticket centres:
* Enhanced Vision Optical – Hastings Plaza
* INTERMiXZ – Sky Mall
* Femme Couture – Peronne Village, Worthing
For our patrons outside of Barbados, the price of tickets is USD $33 and we will be accepting credit card payments online. Please send us an email at [email protected] with your ticket requests in order to receive the link and login credentials for our online portal, as well as the confirmation and ticket barcode upon payment.
Follow us on Instagram and Twitter @lushcoolerparty to keep up to date with all of our activities and giveaways!
Feel free to email us at [email protected] with any questions or queries you have.
LUSH – The Ultimate Cooler Party Experience…

Remember, "LIVE LIFE… LUSH!!!"