After many sleepless nights learning the ins and outs of successfully putting together an iPhone app I have finally scored a success.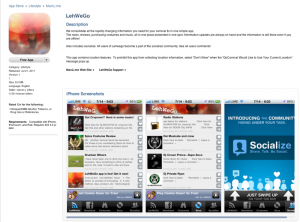 The LehWeGo app is now available on iTunes.
The app puts the Lehwego blog and facebook page at your fingertips as well as listings from fineahban for when you need to sell or buy a costume.
The app also has a soca section with radio stations from trinidad, mixes from dei musicale, Themixfeed and Private Ryan.  The mixes will change regularly to keep things fresh and Im always improving the layout.
Whenever a big event occurs or if we change a mix or have any other worthy news Lehwego will push a notification to your phone. Don't worry, it wont be often enough to be pesky but will allow you to get the newest news as it happens!

Themixfeed.com is a wonderful site I have found that compiles mixes from all over the net and from all genres.  Click here for their soca page
The thing with themixfeed though is the strength of its soca section.  The owner muss be a west indian!  The soca mixes are fresh and hype.  The site is frequently updated (almost daily) and I hear that big things are in store.
So, put your iphone to good use.  Support di ting! and enjoy the music and the stories and then newest news while you are at it.