YES!  For those that didn't know, Lehwego has been very industrious and over a year ago managed to put an app on the apple appstore.  It's now time for the  ver. 2 update!  My app is designed to keep you in touch with the news and happenings in the carnival world through a basic news aggregator (powered by all the carnival news facebook has to offer), Music, Video and Photos.  Of course the Lehwego Blog is in there as well….to show you carnival from a man's point of view.
This is the first tab.  The blog tab.  It shows my latest blog posts.  To lower the article selection plane just tap "articles".   Tapping articles again will refresh the blog window.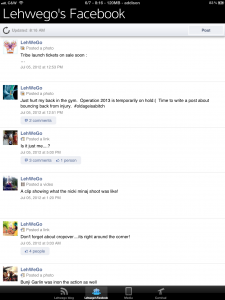 This is the Lehwego Facebook tab.  I will take the time to aggregrate all the useful carnival news from all your favorite sources in Trinidad AND beyond and deliver them to you here.  You  can always reply straight from the app.  This module requires that you sign into facebook from the app.  Don't worry, the app will not do anything other than post comments that you yourself make.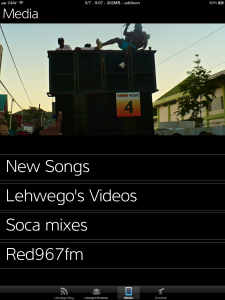 Next is the music and video tab.  I have put together all you need to feed your hunger for carnival.  From new singles, to handpicked mixes, the music is on hand streaming directly to your device.  The singles will be updated daily when we get closer to carnival while I can promise about 5 new mixes a month with many exclusive "Lehwego Pro" ONLY mixes coming.  This tab also has a link to the videos.  Videos can now be viewed in landscape for maximum tabanca.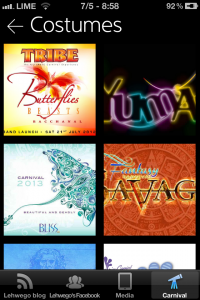 The next section focuses on Carnival.  There are currently menus for Jamaica and Trinidad with more to be added in the future.  The Jamaica option is dormant for now with the focus being on photos from 2012.  The Trinidad option is just getting warmed up.  For now I will have photo galleries for the big bands with photos of costumes to come as they launch.  There is also a tab for "The Carnival Connection".  TCC is a concierge service that will lubricate your carnival experience, making usually tedious things like booking a decent place to stay, getting party tickets and your costume easier in a lot of cases.  Email her directly from the app to make requests!
Of course this is a work in progress but there are big things in store for the future with better audio and video in the pipeline as well as completely new features to come.
Carry carnival in the palm of your hand