Foreday morning bands – Mount Gay Rum Runners
Take a look at some info on Barbados Foreday sent to me, just for you!
The Crop Over 2013 Foreday/Jouvert Band You Want To Be A Part Of!!!
The Foreday Morning Jam in Barbados is a night-time street party with a parade of organised bands of revellers, covered in mud & body paint partying through the streets. It is one of the many Crop Over events for the season, and is a precursor to the Grand Kadooment Day.
Fore-day Morning is a cooler (Temperature) option to Grand Kadooment, offering those who want to play mas the opportunity to do so, without the heat and long route of Kadooment Day.
This event signals the start of the adult street parades for the Crop Over Festival, and takes place immediately after the Pic-O-De Crop competition finals in the early hours of the Saturday of the last weekend of the festival. It is similar to what Trinidadians call "Mud Mas" on Jouvert Morning (pronounced 'Jouvay').
The Mount Gay Rum Runners Band are hitting the road for Crop Over 2013.  Take a look at what they have to offer if you  are still deciding on a foreday morning band.
Party Vibes on the road supplied by Slam FM Barbados' #1 Station DJs DMZ, K9 International and Infamous HD. Special guest DJ PowerSerg plus more.
Champagne Breakfast After Party @ Mount Gay Visitors Centre from 7am-12pm.
Band Registration:$50 US
Brought to you in association with: Premier Event Services, DFMUSIC and Attack Media Group
Sponsored by Mount Gay Rum, Absolut Vodka, Remy Martin, Chivas Regal, Beefeater Gin and Piper-Heidsieck Champagne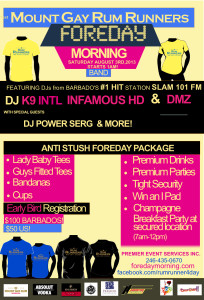 To register or for more information please visit www.foredaymorning.com or contact Premier Event Services at 1-246-435-0670.