I managed to contact the organizers of BLISS.  Along with booze cruise this  is a cropover event that I have NEVER heard a bad review about.  From all accounts it is an EXCEPTIONAL party.  Here is a bit of what they had to say: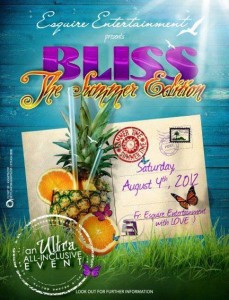 1.  For those who don't know, tell us what Bliss is all about?
 It is an ultra-all inclusive event that occurs twice yearly in Barbados, one at new year's eve , which is theme-based, and one in summer on the Saturday before Kadooment Monday in Barbados, "The summer edition!".
.
.
2. What date and what time is it and how do we get tickets (and the cost)?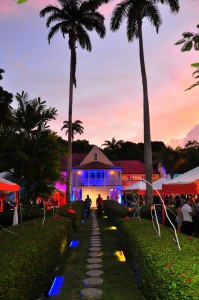 The date for the summer event this year is August 4th 2012. We encourage everyone to write to us at 

[email protected]

 firstly requesting to join our mailing list. You will receive a reply within a week directing you to a link that allows you to enter basic personal details (eg name, email address and contact information), so that every time we have an event you will receive information regarding the ticket reservation process, such as dates that reservations open, and dates for ticket pick-up, etc.
With regards to the cost of the event, we will be releasing the official flyer with that information in around the first to second week in July, which is approximately a month from the event. Around that time the info for ticket reservations will also be released including the price of tickets.
.
.
3. What do you bring to the table that no one else does?
I cannot really comment on what others do and do not do, but we try to bring a high quality event to the island, but more improtantly we just want people to have a good time, FUN!!! I think so far we have been somewhat successful in doing so. We try not to cut any corners, but at the same time try and keep prices down as much as we can so that our patrons are not paying exorbitant prices for an all-inclusive event.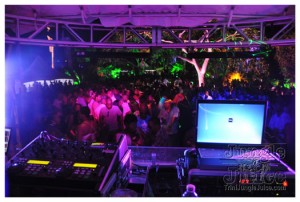 It may sound cliche but the three of us (Nigel, Paul and myself) have realised in this journey that Bliss is bigger than us. We have a responsibility to our suppliers, our patrons and even to Barbados especially during Crop Over, because we recognise that there are persons who may come to the island primarily because of our event, however, they must find somewhere to stay, things to eat around the island, and of course they may buy one or two things during the stay on their island, so we are in some way contributing to tourism. We may be playing a very small part, but if the quality of our event dwindles, or if we no longer hold true to the promise that we have made to our patrons, then we have failed.
.
.
4. Any new features to the party this year?
We always have a few surprises as we cannot have a "stale" party. We always want the patrons wondering what are we going to do next, and it is tough sometimes because of financial constraints or location logistics, but we have to do something a little different so that we can keep the event fresh. So some of the new stuff will be announced, but for the most part it is seen and felt at the event.
.
.
.
.
.
.
Thanks to trinijunglejuice and Anthony Maugee for the great photos!
Will you reach a state of BLISS?