Antigua carnival 2013. What you need to know about Wadadli!
Here is the first of many posts from our Antiguan correspondent Butter-P. Look out from more from her soon!
The Wadadli Experience
It has been coined the Caribbean's Most Colorful Summer festival and it holds true to its name. Antigua's (also known as Wadadli) carnival incorporates the party vibes with the cultural aspect and makes them blend in perfect harmony.
The carnival season starts the last week in July until the first Tuesday in August. (Yes you calculated it correctly, the exact same time as Crop over) However the bouncing starts early with pre carnival fetes kicking off from Mid May right down until Carnival Tuesday with a mixture of live concerts, cooler fetes and All inclusives. A fete EVERY weekend from May – August, can you say AXXION!?!? (fete list to follow)
What are the fetes like here compared to Trini fetes?
We are relatively new to the feting scene and the market here is still growing however the fetes in Wadadli are A LOT cheaper than Trinidad with live shows starting at $10 US and All inclusives (well really drinks inclusive ) starting from around $50US.
The fetes here are a lot smaller as we boast a population of roughly 70,000 persons, but what we lack in size we make up for in VIBES.
So why come to Antigua for carnival?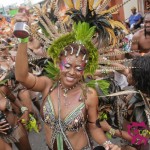 Well for one our Opening carnival parade. The City is transformed to Carnival Central and persons take to the Streets in the T-Shirt mas bands of their choice. The T-Shirt mas vibes is a mix between mas and jouvert and is the perfect "prep" for the road come carnival Monday and Tuesday.
As I mentioned before our Carnival is a cultural time so the week of Carnival itself is focused on local events, competitions and pageantry ,but don't despair, you can still find carnival dances going on each night well into the morning. The people here are extremely welcoming during the Carnival season and after events don't be surprised if you are dragged into a posse to go to a local breakfast joint followed by an early morning beach dip and cool coconut water J Sounds like paradise doesn't it??
The main selling factor is TWO GLORIOUS DAYS on the ROAD (Well except for that year when we had a Tropical Depression on Carnival Tuesday, and YES everyone still went out fully adorned in Carnival costumes and played mas, what did I tell you about my people when it comes to Axxion??? That year we got THREE GLORIOUS days (oh sweet memories) but again I digress J) The cost of costumes here are definitely more affordable with most costumes ranging from $300 US – $500US in cost. For two days on the road, Monday wear, costume, lunch and premium rum and soca that price really cannot be beat.
The road experience in not for the faint of heart you must have a lot of stamina to sustain. After jamming in the wee hours of the morning for jouvert, you make a mad dash home to clean off the paint / mud/ chocolate and whatever else you may have accumulate on your body, put on your costume and touch road.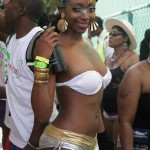 The vibes on the road are surreal. The women are beautiful and have no problem wining on a stranger and if you are a good looking stranger you're like a piece of meat in the lions den (evil grin) So be prepared for nuff bam bam and waist line throwing to the sweet soca music. In other words Wassyness until the absolute end of carnival Tuesday! Disclaimer… you will see things here on the road that you can't even tell you Mama about.0_o
So what more can I say we are a small island but we pack a lot of punch! Beautiful People, 365 Beaches, Exhilarating Party Atmosphere……as my reviews come rolling in you will be as convinced, as I am, that Antigua Carnival is definitely an experience not to be missed.