CERTIFIED BY LEHWEGO…I've used them and Confirm they offer good service!
The Carnival Connection
'Your Portal to Regional Carnival'
The Carnival Connection is the only way to arrange your trip to Trinidad & Tobago for 2012!

The Carnival Connection was spawned by the need of foreign first time masqueraders to experience Carnival parades and fetes throughout the Caribbean region. Realising that overseas masqueraders, who sometimes experienced limitations due to not having a 'connection' based in Trinidad and Tobago, found it hard to gain access into the 'it' events and happenings during this festive season. As a result, we've decided to provide a series of services to assist local and foreign revellers in making their regional Carnival fantasy a reality!
With The Carnival Connection, you can reserve and pay for all of the following online via our Facebook page before you set foot into the country:

a. Taxi/Shuttle  Services
b. Carnival Costume Finder,
c. Carnival band house registration – in limited quantities (upon special request)
d. Fete tickets and;
e. Accommodation – in limited quantities(upon special request)
a. The Carnival Connection Taxi/Shuttle Service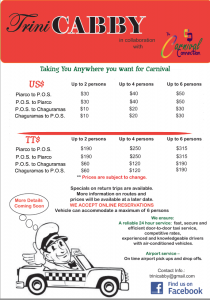 Trini Cabby in collaboration with The Carnival Connection brings you an affordable, reliable and much needed service during the Trinidad Carnival season.
The taxi/shuttle service is available to pick you up and take you to the airport, fetes, J'ouvert and Carnival Monday and Tuesday! Those who use the taxi/shuttle Service from the airport will have all paperwork, receipts, and fete tickets delivered on arrival as part of the welcome package! Visitors can make an online reservation and/or an online pre-payment (optional) via PayPal or Moneygram at The Carnival Connection. 
Look out for our welcome packages, specials, discounts and additional routes as we approach the Trinidad C2K12 Season!
**NEW Look out for our Semi Inclusive Maracas Beach lime package during the season which includes transport to the beach, food and chasers!
b. Carnival Costume Finder
Didn't get to register in your band of choice? Last minute Carnival Planner? If you need a costume but don't know where to start and can't take the rush, The Carnival Connection can take of it for you.
For a nominal fee we will devote our time to finding your costume of choice within your budget!
c. Carnival Band house registration
We know that there are sometimes limitations in purchasing your costume of choice when a band does not have an online resource for you to do so. If you are set on a costume, The Carnival Connection can register for you at the band house in Trinidad!
d. Fete tickets
So you've trawled the sites such as TriniJungleJuice and Trinidad Carnival Diary and know what fetes and J'ouvert events you want to head to, but don't know where to start to acquire your tickets. The Carnival Connection offers an online resource for you to reserve (and pre-pay) for your tickets and J'ouvert costumes.
Payments for these services can be conveniently sent via PayPal or Moneygram with confirmation guaranteed within 24 hours and a scannned copy of your receipt/ticket will be sent to you.*
**On arrival in Trinidad, your tickets and registration information will be submitted in your welcome package for those who utilise our taxi service. Otherwise, tickets can be collected at a secure location in the Port of Spain area or will be delivered upon special request.
e. Accommodation
So you didn't listen to the advice of the Carnival Verterans and you wake up and realise that it's August and adequate carnival accommodation is almost sold out! Contact us and we can come up with a list of suitable sites at a budget pre-determined by you!
Clients are free to use any one of our services independently, but those who use more than one of our services are entitled to a discounted packaged deal!
Look out for more information as we approach Trinidad Carnival 2012!!! Gearing up!
*For most tickets