Double UP breakfast fete review 2014
2014 saw the lehwego team trying to change things up a bit in the fete department.  Making fête reviews of the same parties year after year gets boring.
We reached the venue early and were greeted by champagne and patron at the entrance to a spacious venue.
The food court was already in full swing and I have to admit that this was the best food I have had at a breakfast party.  Not only did it taste good, they gave you ample portions.  They had sushi,  jerk chicken, a fruit station, chocolate fountains and don't get me started on the dessert stations.  Needless to say the food court was MORE than adequate.

We then moved to the rest of the venue. There was lots of space to move around and the vibes were nice.  The crowd was more mature (actually about my age) but that didn't gold them back.
The main part if the venue was dominated by a foam tower that created a big vibesy foam pit.  There is always something about foam…..
Drinks were exceedingly easy to get and a speciality mixed drinks bar was also available.

Performances were scattered through the morning culminating in Bunji and Fayann at the end.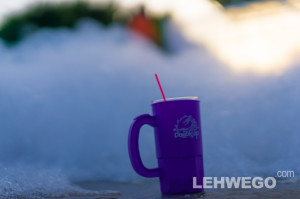 We went home with our bellies full and with smiles on our faces.  This fete hit the spot just right!
See pics      

HERE

    and     

HERE