Where to fete for December 2013, Jamaica.
Christmas is approaching and soon we should experience the soca switch when all Trinidad radio turns to soca and the new hits will come out hot and thick.
In Jamaica we will also be enjoying some of the best fetes of the year to gear up for the home stretch to Trinidad carnival.


First off is Soca vs Dancehall, a staple in the soca calendar here in Ja. Come experience a mind boggling array of top shelf liquor and the best soca vibes.  Message their page for ticket info.

Next up is Cabana City Reserve on Dec 21st.  This is one of the more upscale events for the year with the last edition full of luxury yachts and private cabanas. Last time they brought Dj Private Ryan to spin the tunes.   This time we will jam to the vibes spun by Dj J-Lava of Dei Musicale fame.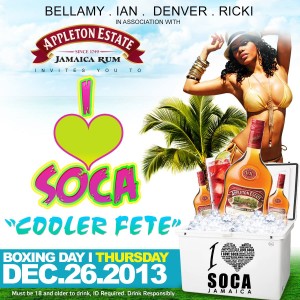 Then us socaphiles have a nice belated Xmas present (December 26th) in the form of "I Love Soca". This is another staple in the Jamaican soca calendar with nice vibes and lots to drink. Last year they also brought in Benjai who gave an electrifying performance.  I can only imagine what they have in store for us this year.
As always, message the respective party pages for ticket info….and see you there!