St. Ann Carnival. Ochi steps it up a level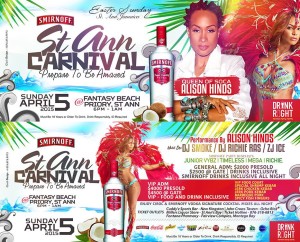 St. Ann is back this year for its third annual staging on the Easter Weekend, Sunday April 05, 2015 at Fantasy Beach, Priory St Ann, and beginning at 6pm.
The event Headliner will be the International Queen of Soca, ALISON HINDS, who is geared up and ready to give revelers the performance of a lifetime.
DJs providing the music are DJ Smoke, DJ Richie RAS and ZJ Ice.
VIP ADM is $4000 presold and $4500 @ the Gate, Food and Drinks Inclusive.
VIPs will be treated to variety of signature cocktails mixes, delectable entrees, exquisite and superb Lounge Areas.
VIPs have to choice to fete in either of our VIP Lounges, the Caribbean Producers of Jamaica / Luc Belaire / Smirnoff / Ciroc VIP Lounges will definitely be design to appeal to your every desire.
General ADM is $2000 presold and $2500 @ the Gate Inclusive of Smirnoff Vodka Drink Mixes.
The General Area will feature hassle free bars, attractions from our sponsors. This area will be designed and presented to put you in a state of mind of a hard partying Carnival Reveler. If that's what you are about this area is definitely for you.
Please be warned in this area there will be Excessive humping of bumpers…!!!! (-:
Ticket outlets
Cuddy'z Sports Bar – New Kingston
John Crows Tavern – Ocho Rios
Millers Liquor Store – St Ann's Bay
Fontana Pharmacy – Fairview Complex, Montego Bay
Ticket Hotline – 876-318-6813
sponsors:
Smirnoff Jamaica
Caribbean Producers of Jamaica
Wisynco Group (Coco Cola, Schweppes & Wata)
Irie Fm & Zip FM