I Love Soca feat. Benjai review, December 26, 2012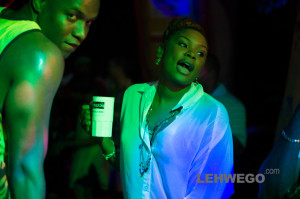 Let's start by saying straight up that "I Love Soca" has easily kept its status as a "lehwego recommended" event with this staging. Also let me reiterate that in 5 years time, or less, the name Andrew Bellamy will become synonymous with soca and carnival events in Jamaica!
I arrived via the shuttle from the secured parking and met a full house in the venue. As usual the Hope Gardens venue was well appointed and lush, with well trimmed lawns, a dance floor and a stage.  The crowd was definitely bigger than the last staging and I tripped over many a cooler on the way to the front of the venue.
Although full, the early vibe was more subdued and it seemed like people were refusing to "drink and drunk". The edges of the venue were packed while the more well lit areas near the stage were relatively empty, a sure sign of a sober crowd.
Soon though, selector Myles from Trinidad took over the wheels and the party started to gain momentum. The dance floor started to bounce and it was smiles all around. I saw coolers packed with rum slowly start to serve their purpose and the wining began!
Later in the evening Benjai started his set, immediately packing the dance floor and front of the venue with eager patrons. The start of his set was marred by a slight technical glitch but the kinks were quickly worked out and the party began!
Benjai kept the vibes going and the crowd partied like it was the DJ playing, something I only see at soca stage shows.
When he was done the crowd stayed on and the vibes kept on flowing.
I on the other hand had to go.
Trinidad carnival is coming and the six pack won't build itself!
Sleep-work out-eat- repeat! Just over a month to go!
See below for photos and a video review!