Foreign parties for carnival in Jamaica?
This year,  the influx of foreign parties into the Jamaican Carnival landscape has Continued and even increased.
I see the outside invasion continuing and as long as our carnival is growing there is NO stopping it.  Heck. Even trinidad is experiencing an inflow of foreign parties.  It is the way of the future. The world is getting smaller. And if the events bring something great to our carnival (without harm) we welcome them with open arms.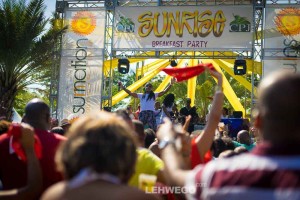 This, in my opinion, is a sign..
A sign that our carnival is growing and will continue to grow.   A sign that the rest of the Caribbean sees the potential of our carnival. A sign that our unique Jamaican version of carnival is worthy of recognition.
These things did not happen by accident.  This was due to the concerted effort of several promoters and entities that, apart from being in the business of carnival,  are true lovers of carnival in Jamaica.
I have seen carnival fetes go from 2 frenchmen parties,  I love soca and the mas camp series to THIS.
One thing I am proud of is Jamaica's value for money.
I went to a nice breakfast fete in Trinidad, and had a really good time. Food was served, there was good liquor and performances.
But I also went to Sunrise Breakfast Fete in Jamaica Last carnival for HALF the price, got wayyyy better food even though I arrived late, same great liquor, same great vibes and Machel and Kerwin performed.
I went to a premium all inclusive in Trinidad which was a blast with many amenities .  In Jamaica last carnival I went to Frenchmen Bazodee. At Bazodee I also ate till my belly was full,  drank only the best liquor,  listened to private Ryan play and danced amongst beautiful people for LESS than ONE HALF the money.
We have cooler fetes, Jouverts, etc as well. And again it's the same issues…… same value. Half the price.
Then on the road with Bacchanal Jamaica the story remains the same. For much less, you get a road experience second to none. Well organised without periods of dehydration and with several creature comforts on the road unavailable elsewhere. The  costumes here also are improving EVERY year.
And as carnival grows here the uninhibited carefree, euphoric vibe that we have all come to expect in Trinidad has started to catch on here as well.
This is what Jamaican promoters bring to the table. Local knowledge. Local experience. Local support.
These things allow them to bring forth their vision of what carnival should be at prices that allow you to enjoy all the events. If you are coming to Jamaica because of Vale or Scorch or AMbush, I implore you to try our local products as well.
What I hope and pray for is foreign fetes:
– Work with the schedule of established events to avoid "boxing food"  out of anyone's mouth
-Avoid making unnecessarily expensive fetes just for making money's sake.
-Bring people that follow their established event abroad HERE so that they can also enjoy our local events.
The pie must get bigger if we are to cut it into more slices.  With a big pie (many new revellers coming to Jamaica) all will be happy.
I'm happy to report that, for the most part, the new players on the market are mindful, and things are looking positive for them helping to make the carnival in Jamaica we all love so much to grow  by their presence.  We look forward to feting with them!