Get "Tipsy" for Cropover!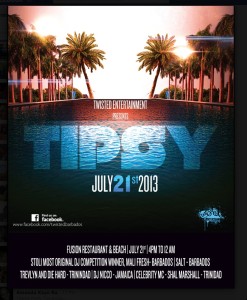 I will not be in Barbados at the time but I have heard good things about an upcoming event there for those who can make it.
Its called "Tipsy"
Location and Time: Fusion restaurant and Beach, July 21st.
the event Boasts several Dj's from Island People (Trevlyn and Die hard), 96.1 We FM and Zen in Trinidad as well as DJ Nicco.
Also on hand will be Shal Marshal and local DJ's Salt and Mali fresh.
Look out for lots of drink specials to get you " Tipsy "!
I hear this one will not dissapoint and the recommendations have come from more than one trusted source.
Someone go and do a review for me nah?