Beach house Barbados Info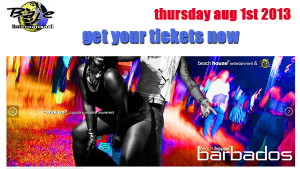 Here is info I got for Beach house Barbados:
It is officially time to raise ya hands and leggo. As you may already know, on Thursday August 1st, we are teaming up with the ultra premium Trinidad Carnival event "Beach House" to bring to you an epic lifetime experience @ Cornwall house Bathsheba! It will be a 1st ever in BIM and you won't believe your eyes when you feel the beautiful energy, see the beautiful people and taste the endless spread of mouthwatering cuisine. Plus, the beverage scope will amaze you as multiple bars flow the finest of drinks all day such as Moet champagne, Johny Walker Blue, fine cognacs, premium vodkas, every shooter and cocktail imaginable and much much more! Plus we have waitresses, bartenders and staff can't done to ensure you never wait! It's been 4 months of preparation and now, it is time!
Please note that as Baje family you are 1st priority. There will be no entrance by cash at the door and entrance is by tickets only. There are also a limited amount of tickets available so please purchase as soon as possible or reserve your ticket TODAY by e-mailing us at [email protected] Tickets are US $150 and are moving quickly so please secure yours NOW. Or you can purchase at our mas camp at Carlisle Bay 622 – 2253 or online at www.islandetickets.com.